RODRIGO Y GABRIELA 'Live Manchester And Dublin' Rubyworks RWXCD12(2004)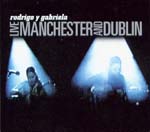 Who? Rodrigo y Gabriela are, by all accounts, Mexico's finest export. Originally part of their homeland's rock/metal scene they simply bailed out on the edge of a record deal, headed to Ireland with a couple of acoustics and no game plan.
What sets Rodrigo y Gabriela apart is their style and delivery - a latin flamenco style covering everything from jazz to metal and everything in between. And believe me, these 'guys' can play. The word virtuoso can often be overused in guitar circles, but for once, its spot on.
So back on the streets of Dublin, Rodrigo y Gabriela soon built up a reputation on the live circuit. Sell out shows and contributions to music soundtracks built a solid following. To date, they've released two albums - Foc and Re-Foc and supported everyone from Courtney Pine to Will Young (but don't hold that against them!).
They record all their gigs on mini disc or portable studios and the recordings on this album - at Dublin's Christ Church Cathedral and Manchester Academy were never intended for release. But people kept asking - so here it is. It includes four new tracks and a jazz standard - Take 5 interwoven with Metallica's One. Mind-blowing.
Rodrigo y Gabriela have different styles and trade off one another with staggering effect. According to the sleeve notes, 'no effects were used during this recording' which makes it all the more impressive. My only gripe, it's short at just over 30 minutes even if there is 'bonus' video footage of one track.
So, Rodrigo y Gabriela - remember the name. And if they're playing a town near you, make sure you go along.
****
Review by Pete Whalley
One/Take 5
© 2004 Rodrigo y Gabriela/. All rights reserved.