Still gurning after all these years...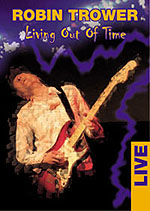 And yes, he's still gurning but perhaps a little more restrained these days as befitting an elder statesman of guitar rock. This DVD companion release to the CD of the same name is a great live document for Trower fans.
Recorded by German TV's WDR in March 2005 (coinciding with Trower's 60th birthday) it really is a well-filmed gig with excellent sound quality and a good mix of Trower songs old and new. The band is effectively a re-incarnation of RTB c.1985.
The one surprise, not obvious to me after listening to the CD, is that Trower sings on 'Breathless' (from the album 'Go Your Way'). Without wishing to be unkind to Davey Pattison, it makes you think that perhaps Trower should sing more often.
We get a bonus 30-minute interview which shows the guitarist to be a sensitive and thoughtful soul, but why is it that so many of these DVD additions have the interviewer 'off-mike' and asking occasionally banal and ill-contrived questions. Pete Makowski hold your hands up.
The classic has to be (off-mike) 'did you break your bones with all the hard work?' referring to Trower's late sixties activities. Right...
We do get closer to Trower's Hendrix fixation when he reveals that his interest started with the 'Song For A Dreamer' tribute that appeared on the Procol Harum album 'Broken Barricades' in 1971.
You can't help thinking that Trower should have been born black. He is one of our most soulful and emotional guitar players and whilst the Hendrix fixation seemingly persists he reveals a new 'cinematic' approach for his next project. But no doubt an approach with plenty of wah-wah and phase shifting.
Trower seems comfortable with his music these days, retains a loyal fanbase, and is undoubtedly an underrated and often overlooked talent in the pantheon of Great British Guitar Music. This DVD goes some way to redress the imbalance.
****
Review by David Randall