ROBIN TROWER 'Living Out Of Time Live' RUF 1111 (2005)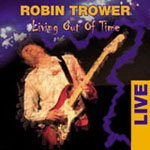 For many, including this scribe, Robin Trower seems frozen in the seventies and, to be specific, that post-Hendrix period which yielded his best-known albums.
Wizened rockers will recall (a) he was accused of aping Hendrix (b) he gurned a lot. Has anything changed? Well, the opening salvo of this 2005 live recording - all wah-wah and repeater-fire chords - does nothing to dispel the fears of (a), and only the absence of visuals dispels theory (b).
What remains is an artist whose best work may have been fashioned some thirty years ago and, indicatively, the four key tracks on offer here are from 1974's 'Bridge of Sighs'. And, amongst the more recent material, (four tracks from the album 'Living The Dream') there is an absence of the 'killer' cut. 'Sweet Angel' is good but as if to reinforce Trower's retro credentials it is a slightly inferior update of the classic 'Lady Love'.
There is no doubt that Trower is a superb player and to the extent that he keeps the Hendrix spirit alive we should be grateful, but you can't help thinking that this isn't really his intention or indeed his goal.
All great guitarists have benefitted from collaborators - for Clapton in Cream it was Jack Bruce who grafted on lyrical sensitivity in both vocals and playing (there are some similarities between Trower's combo and Cream) - and in the seventies Trower had the late great Jim Dewar.
Current vocalist Davey Pattison is no Jim Dewar and all these songs (the old ones included) would benefit from Dewar's soulful resonance. Whilst Pattison has been revered by fans as a natural successor I find his delivery somewhat insipid, in that archetypal white bluesman sort of way, and no match for Trower's frenetic growl.
For a decade or more, Trower has been somewhat elusive to his UK fanbase and a November 2005 tour made some amends even though one gig was cancelled because the local council decreed the band were too loud.
Trower doesn't need this hassle, and he definitely doesn't need the rather lack-lustre official website which seems permanently cached at the start of 2005: it doesn't even feature reports and photos from that recent UK outing.
He simply deserves better and it only perpetuates the image of a musician whom time forgot.
This well recorded CD comes from a filmed-for-German TV birthday celebration (when Trower was 60) in March 2005. Guitarists, and the Trower faithful, will appreciate this set (and the accompanying DVD) but, sadly, it breaks no new ground and consequently is unlikely to pull in more grist to a well-deserving cause.
***½
Review by David Randall
Breathless
© 2005 Ruf Records. All rights reserved.