RICK WAKEMAN and the New English Rock Ensemble'Out There'
(Classic Pictures MFW6093X) (2003)

His latest solo album is a prog rock concept album, with the story line being the exploration of space to discover the origin of music. Joining Rick are vocalist Damian Wilson (ex-AYREON/THRESHOLD & he also appeared on a touring version of the musical Les Miserables), guitarist Ant Glynne, his long-time drummer Tony Fernandez and bass player Lee Pomeroy. The album is dedicated to the NASA astronauts who lost their lives aboard the STS-107 space shuttle.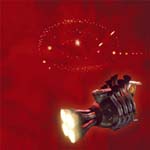 Guitarist Ant Glynne adds a prog metal feel to the proceedings, none more so than on opener 'Out There', where the guitar drives the song along. The track also features some great parping keys! It is the albums epic tune, weighing in at over thirteen minutes and the track where Rick's keys show most prominence. 'To Be With You' mixes choral passages into a laid back beat to produce a very effective song. The rocky 'Universe of Sound' follows, with a driving rhythm and Damian's vocal not unlike Jon Anderson in pitch. The nearest to a Yes sounding track on the album. 'The Cathedral in the Sky', starts with a church organ before adding more choral touches. The whole song has a pomp rock feel reminiscent of Styx. It rounds the album of in fine style.
Special mention to the cover as well, with a clear picture (a spaceship made-up of musical instruments) as there is no band logo on it. The inlay sleeve is well illustrated with all the lyrics, making it a good package all round.
Superbly played and arranged throughout, the album will delight longstanding Yes and Rick Wakeman fans. But it has a wider appeal to fans of prog rock in general, particularly those who enjoy a more modern leaning like Threshold, Arena, etc. Worthy of a place in your CD collection, with the highlights being Rick's keys and Damian's vocals. Even if you think you hate prog rock try this as the melodies are tightly composed and there are no 'waffly' passages that put so many people off prog rock.
DVD review
Website
Interview
The Mission
© 2003 Rick Wakeman/RW Music Ltd/Classic Pictures. All rights reserved.
****
Review by Jason Ritchie