Caped crusader's musical journey...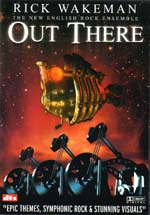 The DVD release of last year's prog rock album based on the search for the origins of music. Now the `Out There' album is a superb slice of modern prog rock and features the vocal talents of Damian Wilson (who left just before last year's UK tour), who is featured on the videos on this DVD.
Each track takes a space theme with NASA footage cleverly worked into band studio footage (including Rick Wakeman in full flowing cape mode on opener `Out There'!). The spacecraft featured on the cover and in the videos is actually made-up of musical instruments and speakers to keep the origins of music theme going.
There is also an in depth interview with the main man himself where he discusses the album's concept and details. Being Rick Wakeman it is an enjoyable interview that will stand up to repeated plays. There is also some live footage from last year's UK tour, with of course Ashley Holt on vocals and backstage joking about.
Album review
****
Review by Jason Ritchie