R.E.M: The Tracy Emin Years...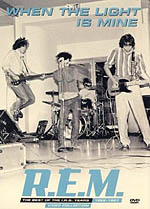 When I first got my hands on this I thought 'Great - now I'll be able to see some real, razor-sharp footage of one of my favourite bands instead of the fuzzy half-baked videos and hand made movie footage that usually passes for an REM 'flick'.
Oh dear, what a disappointment. Admittedly, there are some gems buried in here (more of those later) but a lot of it is stuff lifted from the 'Succumbs' video and other well-known footage and videos of the time.
One of my pet hates is studio tracks by a band played alongside concert footage where it's perfectly obvious that the band are not even playing that track! This happens quite often on the early stuff on this DVD.
However, this pales into insignificance in the pissing-off stakes when you look at some of the promo videos. Most of them come over as having been shot in black and white on a hand-held Super8 by Tracey Emin on mescalin, balancing on a rickety chair. What's the point? Most films are of street scenes of Nowhereville, junkyards and general piles of shite that add nothing to the music, and, in fact, positively distract you from the excellence of the tracks.
But, hey, it's not all bad news. There is some really good stuff here as well, including performances from The Old Grey Whistle Test (Pretty Persuasion) and The Tube (Radio Free Europe, Talk About The Passion and Can't Get There From Here) which are excellent and really show the band early in the process of developing into the global superstars that they became.
There's also a rare chance to see a performance of Swan Swan (one of my own faves) which comes from the film Athens, GA - Inside Out. Add to this some previously unseen interview footage and clips from IRS's own MTV show Cutting Edge and the DVD just about scrapes into 'buy it' territory.
As Doctor Johnson said after a trip to the Giant's Causeway - 'worth seeing, but not worth going to see'. Sums it up really.
***
Review by Alan Jones