REM And I Feel Fine - The Best Of The IRS Years 1982 - 1987 EMI 369 9412 (1CD) EMI 636 9412 (2CD)(2006)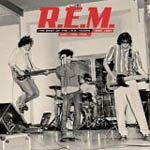 Those Shiny (Whiny?) Happy People collaborated on this compilation to produce a best of that should suit most fans of their early years.
Kicking off with 'Begin The Begin' you get some decent pop rock with their American leanings.
In fact their early work is a touch (just a touch) new wavy, with an element of The Motors, while Rockville has a country feel. 'The One I Love' was the big single of the era too.
With extensive sleevenotes and band collaboration youíre getting a better compilation than most, and itís available in single and double disc sets; the single disc features 21 hits and general best of, while the 2CD set adds a further 21 tracks of rarities, alternate versions, live tracks and general previously unreleased REM of interest. A choice of compilation to cater for all needs.
***½
Review by Joe Geesin