RAY RUSSELL 'Why Not Now' Angel Air SJPCD178 (2004)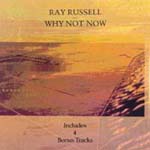 Ray Russell is one of our great unsung guitar heroes; indeed if it wasn't for the Angel Air reissue programme he may well have been confined to guitarist obscurity. I have never actually seen Ray listed in a Top 100 guitarists poll but he deserves to be there.
The reissue programme continues with this little-known gem from 1988. For those listeners who investigated Ready Or Not there may be some surprises. Always veering towards jazz fusion, Russell takes this a step further with 'Why Not Now'. It is jazz-tinged with world influences and with a nod to Gil Evans with whom Russell worked for a time (and who appears on this album).
Skillfully abetted by a stellar cast including Mo Foster (bass), Tony Hymas (keyboards) and Simon Phillips (drums).
To say this album is very late-eighties is probably a little dismissive, but it does chime with other guitarists who purveyed a similar path at that time: Jan Akkerman comes to mind.
There are some busy synth harmonies and Russell's guitar is restrained, adding colour and texture rather than in-your-face pyrotechnics.
'Pour Me A Fish' sums up this approach with its sweeping synth harmonies and reflective guitar melody topped with breathy panpipe synth. Lovely.
'Blue Shoes - No Dance' and 'Lunday Island' pits Russell's plaintive acoustic against Hymas piano/synth whilst 'The Pan Piper' is more of an impressionistic piece. Four bonus tracks complete the proceedings, with 'Snow (A Passing Phase) recalling Jeff Beck in his 'Blow By Blow' period.
Altogether this is an album that will repay your attention. It will be worth checking those guitar polls in future, or even influencing them if you can. Russell deserves a slot.
Label website
****
Review by David Randall