RAY RUSSELL 'Ready Or Not' Angel Air SJPCD155 (2004)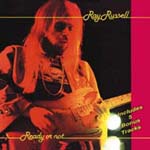 Ray Russell's 'Ready Or Not' album pays homage in great detail to the best of 70's jazz funk, whilst retaining Ray's own identity, mainly through the original material. The influences are all there: Blood Sweat & Tears, CTA, The Electric Flag, Tower of Power and all those ground-breaking jazz funksters of the 1970s.
1. Ready Or Not - A 'minor' funk groove with shades of early Chicago. I like the tasty half-time middle section.
2. The Whole of Tomorrow - An uptempo powerhouse funkster where ray lets loose with a blistering guitar solo. Great drums from Simon Phillips.
3. Amy In May - A pretty acoustic ballad with a stripped-down approach.
4. Slave - Tower of Power-esque song with strong vocals from Denny McCaffrey and Tony Roberts gives it large with a storming sax solo.
5. Liberty Caps From The Coast - A masterfully structured work that features a tender acoustic guitar section.
6. Kiving For The City - A Beatles-inspired intro leads into a clever version of Stevie Wonder's song. Ray attacks the melody with a guitar voicebox in true Joe Walsh style.
7. The Clapping Song - One of my own all-time faves. A fine rendition of the Shirley Ellis original. Duet vocals from Al Green and Annie Kavanagh give this classic a new slant.
8. Teaser For Lisa - 70s funk at it's best, a great arrangement, a driving bass line from Mo Foster and some hot guitar playing from ray. Need I say more.
9. Sweet Surrender - Excellent vocal performances from Moon Williams and Annie Kavanagh on this 'party time' track that boasts some fine horn work.
10. Eighth House - A cool chill-out instrumental ballad that sounds very fresh, even now. Mo Foster turns in a beautiful bass performance.
11. What Trousers Are These - A sharp groove with a full 'in your face' arrangement. The tight horn section leads the listener to a nail biting edge of seat finale. Phew!
12. Q - A haunting Mo Foster tune full of synthesiser layers. Ray skillfully leads the ensemble through this 'leftfield' piece.
Bonus tracks include backing tracks for 'Sweet Surrender' and 'The Clapping Song' (also featured as an outtake). 'The Pain Of Love' is a funky R & B song sung soulfully by Denny McCaffrey, and the slick guitar solo is complemented by a classy Fender Rhodes performance from Roger Webb. A very cool track.
'I Need Your Love' features vocals again by Denny, I love this mid-temp funkster with Philly-style strings and slap bass. A good song with single potential.
Ray Russell is very dedicated to his craft as a composer and arranger but I know from speaking with him that his passion is for guitar playing, and that has not diminshed over the years. Long may his 'chops' stay hot!
Website
****
Review by Ray Fenwick


£12.99
Ready Or Not
© 2004 Angel Air Records. All rights reserved.
***** Out of this world | **** Pretty damn fine |
*** OK, approach with caution unless you are a fan |
** Instant bargain bin fodder | * Ugly. Just ugly
Guest contributor

RAY FENWICK

Ray Fenwick is one of the true guitar greats. He's had a colourful career, replacing Steve Howe in the sixties band The Syndicats, Steve Winwood in Spencer Davis Group, and enjoying international success with Ian Gillan Band and Fancy. It was the latter band that also featured long-time friend and collaborator Mo Foster and vocalist Annie Kavanagh who also appear on the Ray Russell album.
More recently, Ray has been involved with coordinating many archive releases for Angel Air Records and has also toured with legendary pop producer Mike Hurst. In March 2004 he was invited by Yes guitarist Steve Howe to play the difficult second guitar parts on Steve's 'Elements' tour in the UK and Europe.