Just witnessed your best live gig?..send us a review!
Queensr˙che
Florida Theater, Jacksonville, Florida
2 September 2006
The Who along with Pink Floyd were the creators of rock musical theater. If those two were labelled as rock operas, then perhaps what I witnessed tonight at the Florida Theater might be categorized as a "Metal Theater".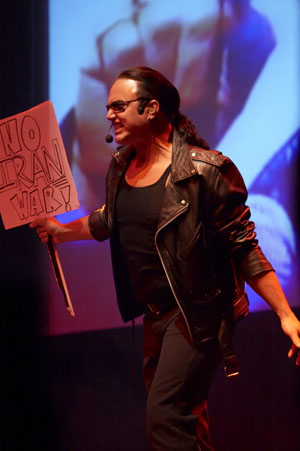 I had no idea that when I arrived to the theater that Queensr˙che would be putting on a three hour production that would prove to rival most full out Broadway shows. We were treated from the opening cartoon through the two encore songs to the tightest (musically) concert from a band who's been around for 25 years.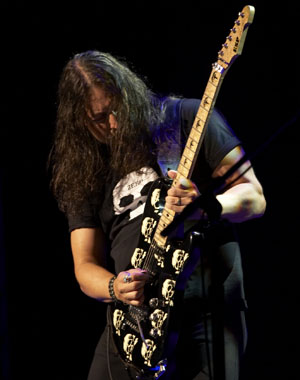 Dueling guitar solos by Michael Wilton and Mike Stone were filled with melodic riffs behind the theatrical performance of Geoff Tate, Pamela Moore and a small cast of character actors who performed in this dark themed metal drama.
Was Queensr˙che a rock band or a Broadway cast who can tear it up musically? Whichever the answer to this question, the packed house of fans were clearly enjoying themselves.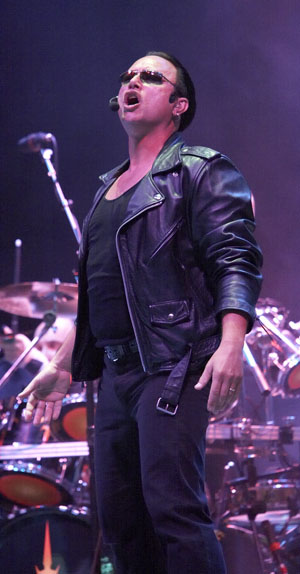 Speaking of the crowd. I fully expected a lot of leather clad, long haired, tattooed people to be at his show. The reality was quite an elective mix of multi generational fans. As I gazed across the crowd, I witnessed people I'd expect to see in this very same theater for Tony Bennett mouthing the words "don't trust the needle, it lies, it cries your name" . What is going on here?
I'll tell you what is going on. It's 2006 and the original metal heads are hitting 60, which makes for an interesting concert dynamic.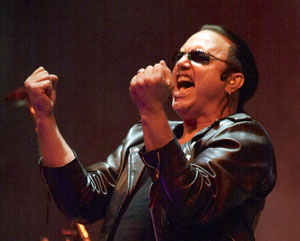 When I was a kid and attended a rock concert, the parents were the ones who dropped you off and sometimes picked you up. Today, the parents not only give the kids a ride, they park and sit next to you. Not what I would have predicted years ago. Didn't Nostradomus write something about this? Well if things went his way, we'd all be gone by now, right?
The boys from Seattle who got together in the early eighties and recruited one of the best metal vocals known. Geoff Tate's voice is instantly recognizable. Think Roger Daltry or Geddy Lee. When those guys open their mouth, you know who it is. This is equally the case with Tate's voice. Geoff and the rest of queensryche had played six nights in a row performing Operation Mindcrime I and II for three hours a night with a thirty minute intermission.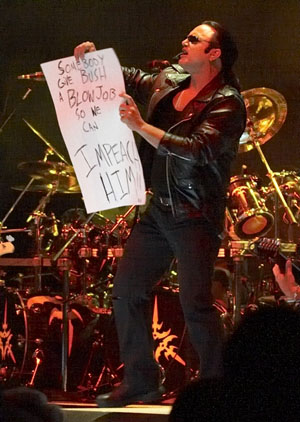 This was a phenomenal treat of American theater at its best from a bunch of forty something Seattle spawned musicians or should I call them thespians with a minor in music appreciation or is it the other way around? Either way, I enjoyed the hell out of it and so did everyone around me.
The only thing I would have liked to hear in the encore was (I know it's a cliché) "Silent Lucidity". As I walked out of the theater, I could hear many others voice the very same question. Why not play it? It was almost expected and that may be the reason they left it out for this entire night was anything but predictable.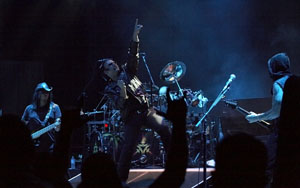 If you're in the mood for heavy music theater for three hours and can appreciate the powerful and vocally dominate music of a band who is still in their prime, buy a ticket to queensryche when they roll through your town. It's worth the time and money!
Review and photographs by Steve Janowicz
Related>> Album review