QUEENSRYCHE Operation: Mindcrime II
Rhino (2006)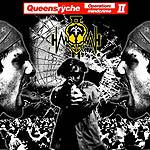 Legendary Queensryche follow up their classic concept album, and it's well well worth it.
Geoff Tate and crew have produced a brilliant metal album, the riffs and vocals as good as ever.
'I'm American' has the vocals coming thick and fast, the guitar solos classic 'Ryche with a nod at Maiden too. The mix and production all excellent, well balanced.
'Hostage' kicks off with some tribal drumming, and singer Tate is able to show is versatility too. There's an element of Bruce Dickinson to the high notes. But it's a modern sound, more akin to Dickinson's solo material than Maiden.
The distinctive tones of Ronnie James Dio (Mr Classic Rock himself) also make a guest appearance.
Queensryche have come a long way since the original album, but this is as classic 'Ryche as it gets in the same breath. Will please die hard fans and more.
****½
Review by Joe Geesin