PETER HAMMILL Fools Mate Charisma/Virgin 2005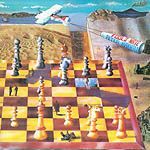 EMI's substantive, top-notch exhumation of the Van Der Graaf Generator catalogue (see other reviews at GRTR!) has gone slightly tangential to the door of this 1971 solo debut by front man Peter Hammill.
Taking time out from a hectic performance schedule and the development of his band's towering 'Pawn Hearts', a (possibly chess befuddled?) Hammill, in a handful of days, recorded this collection of songs dating back to the mid-60s.
In contemporary interview, he reflected upon the sessions as an 'exorcism': "I had this feeling that I had to do them and that I wouldn't rest easy until I did," he related.
It's as well, as this charming period set works today as it did then.
Delivery is well-assured in the hands of Charisma house producer John Anthony presiding over an enthusiastic Hammill, enjoying sterling support from fellow VdGG band members, ex-bassist Nic Potter, King Crimson main-man Bob Fripp, while Rod Clements and Ray Jackson from label-mates Lindisfarne contribute atmospheric bass and mandolin parts.
Digitally-remastered, the songs sparkle with originality, the pitfalls of occasional youthful self-examination countered by the zest and good humour evident elsewhere on the album.
This collective showcases standouts in the sing-alongs: 'Imperial Zeppelin' and 'Sunshine', the melancholics: 'Summer Song In The Autumn' and 'The Birds ', and the delightful 'Happy', an alternate take of which accompanies four previously-unreleased bonus track readings of songs from the sessions.
Indeed, one senses that these were happy times.
Hammill was to go on to record darker affairs during the decade. Let's hope these get the same quality treatment.
****
Review by Peter Muir
Related>> Album review (The Least We Can Do)
Related>> Album review (H To He)