PARHELIA First Light (2006)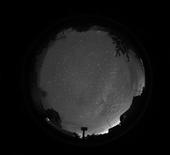 This is a brave undertaking: a post-grunge instrumental EP from a four-piece band based in Dublin who when not sipping the black stuff are churning out some infectious tunes.
At times sounding like a soundtrack to some obscure urban movie, this is a competent debut and needs several plays to register its subtleties.
It's not always obvious where the influences come from either, although if you like alt-rock (for example Pearl Jam or Staind) you would do well to investigate. 'Cloudbreak' is particularly good, with intense chording from Greg Clarke and a rock solid rhythm section of Cathal Rodgers and Andy Clarke. This track more than ably demonstrates the band's skills and their talent for building tension.
Ambient touches from Diarmuid Shore also add to the intrigue. An EP may not be sufficient for Parhelia to really shine, but 'First Light' shows plenty of promise.
****
Review by David Randall
A Second Changes Everything
© 2006 Parhelia. All rights reserved.