Just witnessed your best live gig?..send us a review!
NATASCHA SOHL/Alex McEwan
The Spitz, London 12 January 2005
Natascha Sohl's debut album was one of GRTR!'s 'best of 2004'. She's been gigging fairly solidly to promote it, chiefly around the London circuit, and at The Spitz, off Spitalfields Market, she shared the billing with another rising star, Alex McEwan.
Sue Harris from PR company Republic Media remarked that she has watched Natascha mature from gig to gig in terms of stagecraft and this was certainly evident tonight.
On stage, she's the archetypal rock chick, the girl you probably wouldn't take home to meet mother...well maybe not immediately. In a live arena she delivers the promise of that debut album, although one could see her veering into jazz blues diva territory at some stage in the future as she certainly has the vocal range.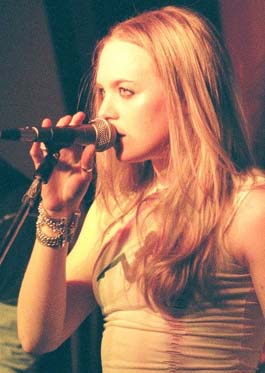 Photo: Rob Gilman
For now we should be grateful that Natascha remains sassy, sexy, and upbeat. The added keyboards in her live band gave an extra texture, although the usual second guitar would add the expected, and welcome, level of grunge. But, whatever, it's the strength of the songs that shine through.
Sohl has the pizazz to make young girls swoon and grown men cry. In short, wide appeal but for different reasons. One hopes that in a crowded marketplace, that appeal widens further.
Alex McEwan is another talent on the verge of breakthrough. McEwan's easy style brings to mind David Gray and probably a host of other Transatlantic singer songwriters. (Our man Jason also mentioned Del Amitri). Although he's at the softer end of the spectrum, McEwan's tales of forlorn love are no less significant for that. Importantly, he's got great tunes and memorable choruses.
This showcase set was sensibly structured, and included the standout stuff like 'Young Once', 'Summer Of Life' and 'She Must Be Crazy'. A name to watch and an album to seek out.
Review: David Randall
Interview