ALEX McEWAN Beautiful Lies Forge (2005)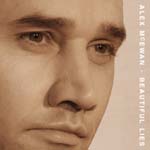 Beautiful Lies is Scottish singer/songwriter Alex McEwan's debut album, which according to his record company's promo material should see him 'placed alongside contemporary songwriters such as Damien Rice and David Gray'. Is the world big enough, you wonder.
Well the answer is an emphatic yes. There is a wide range of influences from roots to Del Amitri on display, and the song writing and playing is top notch throughout. And he wouldn't be out of place besides the likes of Damien Rice, David Gray and Marc Cohn.
There are 13 wonderful tracks and not a runt among them. And it's not one paced - it really is an excellent and mature debut. It's a tough market to crack, but with the right breaks this could be huge the other side of the pond.
If you like any of the aforementioned artists, check this guy out - I guarantee you won't be disappointed. This has quality stamped all over it and unlike many new releases, it won't be far from my CD player for months to come. Highly recommended.
****
Review by Pete Whalley

Young Once
© 2005 Forge Records. All rights reserved.