MOUSE 'Lady Killer'
Angel Air SJPCD189 (2005)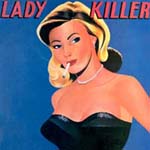 Following on from 1972ís Running Man album (also re-issued by Angel Air), guitarist and songwriter supreme Ray Russell formed Mouse and issued a couple of singles and this £125 rated album on Sovereign in 1973.
With more credits to his CV than most can dream of, Russell can play most styles. This set is more toned down yet more solid than Running Man. Itís a fine slice of mid 70s rock/pop, with some decent tunes along the way. Thereís even a hint of reggae in the moving ďAll The Fallen Teen-AngelsĒ.
Although much of the booklet replicates that of Running Man (well, Russellís biog was pretty similar at the time), with four bonus tracks itís a good package and for fans very welcome on CD.
***
Review by Joe Geesin
Related>> Album review


£12.99
You Don't Know
© 2005 Angel Air Records. All rights reserved.