RUNNING MAN 'The Running Man'
Angel Air SJPCD199 (2005)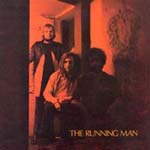 This £110 rated album finally gets a CD release for the first time, and as is usual for Angel Air itís well packaged with an extra track too.
Featuring noted guitarist and song writer Ray Russell, whoís credits include George Martin, Phil Collins, Simon Phillips, Phil Spectre and Heaven 17 as well as a plethora of TV composition credits, this 1972 album sits in a rock vein with some explosive prog and psyche guitar and in places a touch of folk rock.
'Hope Place' is a real grabber while 'Nicholas' is a more melodic 60s pop track. Thereís a turned down nod to Atomic Rooster in 'Look And Turn'.
The albumís a little too mellow overall, but itís still enjoyable with some very pleasant tunes.
***½
Review by Joe Geesin


£12.99
Hope Place
© 2005 Angel Air Records. All rights reserved.