MOTT THE HOOPLE 'Wildlife' (Angel Air SJPCD159) (2003)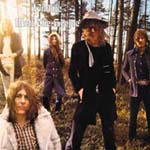 Mott the Hoople was one of the most hard-working bands of the late 60's - early 70's. Their first US Tour in the spring of 1970 was a huge influence in the band's creativity. As a consequence their third studio album "Wildlife", which was released on 19th of March 1971, was "country-tinged" and their least-popular record. That doesn't mean that there are no quality songs in this album.
"Whisky Women" is the opening track of the album. Mick Ralphs provided the catchy guitar riff and Verden Allen the organ melodies. The album continues with "Angel of Eighth Avenue", a low tempo song in which Ian Hunter's vocals will remind you allot of Bob Dylan. "Wrong Side of the River" is a country ballad, which can compete with any C.C.R and Lynyrd Skynyrd equivalent. The song that stole my heart is 'Waterlow'. Hunter's brilliant voice and his collaboration on melodies with Allen brought tears in my eyes! A wonderful song that only a top quality band can compose.
The band remained loyal to the tradition of having at least one gospel song in every album with "Lay Down". "It Must Be love" is an average country song that didn't impress me at all. On the contrary I really liked "Original Mixed-up Kid" which combines southern music with classic 70's rock. "Home Is Where I Want to Be" is a nice song with funny lyrics. The last song of the original album is a live cover of "Keep A Knocking" which proves once more that Mott the Hoople's live performances were exceptional.
This Angel Air release contains two extra tracks "It'll Be Me" and "Long Red" which are pretty good songs.
Mott the Hoople never managed to break through into the mainstream, even though I think that they really deserved it.
Label website
Related>> Mott The Hoople reissue review
Related>> Mad Shadows reissue review
Related>> Two Miles From Heaven reissue review
***
Review by John Stefanis


£12.99
© 2003 All rights reserved.
Wrong Side Of The River
© 2003 Angel Air Records. All rights reserved.
***** Out of this world | **** Pretty damn fine |
*** OK, approach with caution unless you are a fan |
** Instant bargain bin fodder | * Ugly. Just ugly