Rare live set from Tubular Bells Man ...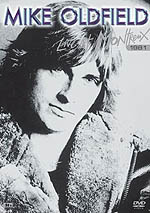 Another set from the Montreux collection, and a rare live fest for Mike Oldfield.
Recorded in 1981, it had taken him that long to tour regularly, and the music is in the main excellent.
While Oldfield is a talented musician, his main skill is that of arranger, and getting together a band and technical wizardry to produce this set.
We get plenty of medleys, including from QE2 and Ommadawn, as well as Tubular Bells Part 1 and Part 2.
There's not a lot of movement onstage or rapport with the audience, but the music will please any Oldfield fan and more.
***
Review by Joe Geesin
Related>> Album review