MIKE OLDFIELD The Platinum Collection
EMI (2006)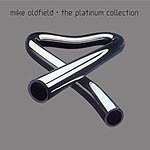 Mike Oldfield is the latest in the EMI roster to be afforded a 3 CD career retrospective Platinum Collection release.
The Platinum Collection series is an excellent mid price way to hear a broad cross section of a major artist's output. And the Mike Oldfield collection is no exception.
It's chronologically divided into 3 decades - disc 1 handles the seventies from the classic Tubular Bells through Hergest Ridge, Ommadawn and Incantations. Disc 2 is largely the eighties and spans a memorable seven albums along with the singles Moonlight Shadow, Blue Peter and Guilty. Other standout tracks include Family Man, Crime Of Passion and Tricks Of The Light.
Disc 3 is nineties dominated with music from Heaven's Open, Amarok and The Millennium Bell as well as a number of 12 inchers. And for good measure, and just to make the package a little more desirable, there's an up to date interview with the man himself.
Hearing some of this material again for the first time in a long while, you realise just how fresh and original Mike Oldfield was. And how well his music has stood the test of time. He may have fallen out of fashion since the heady days of Tubular Bells, but this is a timely reminder of what wonderful music he's made down the years.
****
Review by Pete Whalley