Just witnessed your best live gig?..send us a review!
MELANIE C
Carling Academy, Liverpool 15 April 2005
Always sensible to start your tour on home turf and the partisan crowd gave Melanie C a rousing send-off in Liverpool.
Back in June last year Mel and the band had trialled several new tracks which influenced the composition of the latest album. It's a nifty idea in this internet age when punters can cherry pick the best tracks and it makes for a more consistent and potentially stronger offering.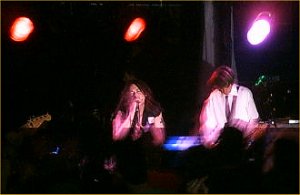 The new album was fully featured with the title track, the single, the rousing 'Never Say Never' and 'Little Piece Of Me' coming across well. Perhaps the biggest surprise was 'Take Your Pleasure' which was more powerful than the recorded version and sounded like a seasoned classic.
As expected, older tracks like 'Ga Ga'. 'I Turn To You' (acoustic) and 'Go' were included but, interestingly, only a couple off 'Reason'.
With a new keyboard player for the tour, new drummer and bass player on the album and tour and, thankfully, her regular guitarists in tow, this was a well-paced energised performance. Looking round the crowd, Melanie seems to have a strong student following, a few stragglers who remember the Spiceys, but hopefully she can broaden her appeal as 'Beautiful Intentions' may well suit the older rocker, too.
Album review
Review: David Randall