MELANIE C 'Beautiful Intentions'
Red Girl Records REDGCD1 (2005)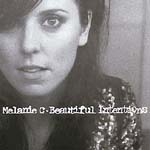 It's a shame that Melanie C gets mixed press reviews. The intitial reaction to her latest album is not good, it has to be said.
It's unfortunate that Melanie, whilst producing very credible pop rock is still falling between rock and a soft place: 'Beautiful Intentions' is unlikely to appeal to the hardened self-respecting rocker, for whom it just ain't cool to dig an ex-Spicey, whilst some of Melanie's former fans may freak at the current direction. But, that could all change.
Melanie C's third album is a triumph in the face of adversity: ditched by Virgin when 'Reason' failed to deliver the expected units, and latter-day promotion hampered by a splintered leg, Melanie took her ball out of the playpen and started a new label.
With Manic Street Preachers/Lost Prophets/Super Furry Animals' producer Greg Haver at the helm, there is an excellent production veneer grafted on to some fine songs and - another plus - the backing of Melanie's gigging band.
Melanie C debuted several tracks on her mini-tour in June 2004 and all survived.
'Next Best Superstar' has been played to death in the pre-release run-up but it's a good three-minute pop rock song. With this, the title track, 'Little Piece Of Me', 'Don't Need This' and the classic 'Never Say Never' upping the rock quotient, there is plenty to impress - maybe even the cynical rocker.
There's also the addition of some tasteful string arrangements on the slower tracks including the standouts 'Here And Now' and 'You'll Get Yours', almost a 'Reason' re-run and co-penned again with Peter-John Vettese.
Basically if you liked the promise of the last album, 'Beautiful Intentions' should hit the button. Not quite Pat Benatar for a new generation, but not far off either.
****
Review by David Randall
Never Say Never
© 2005 Red Girl Records. All rights reserved.