MEDICINE HEAD 'Don't Stop The Dance' Angel Air SJPCD0185 (2005)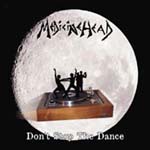 Time plays funny tricks with the memory and to see a new release in 2005 by Medicine Head takes some believing.
In fact, this is a band effort recorded at the tail end of the Medicine Headís career. Some of the material is really impressive, but in a fast changing music world the original duo (let alone the expanded band) were by this 1974 recording date, already out of the commercial loop.
In fact in many ways Medicine Head always swam against the tide, being a rootsy duo when everyone else went psychedelic or veered towards hard rock. The duo had even signed with Peelsís eclectic Dandelion label which was probably more of a statement of their lifestyle than a career move.
And 5 years into their career their decision to expand into a band seemed at odds with their initial ideals, let alone a world in which corporate Rock gradually replaced hippy ideals.
The sad truth is that before the contemporary shift towards cottage music industry , the concept of a two-handed rock band such as Medicine Head, had neither the big label backing let alone a blues scene to sustain their bluesy rootsy approach.
Yet those depressing facts aside, there is still much to enjoy here. Pete Hope-Evans is an inspiration throughout on harp, especially when you consider this was in an era before the instrument received due credence.
His core partner, vocalist/song writer John Fiddler also impresses, particularly on the lovely double harmonies of 'Lay Around', and two very John Lennon sounding efforts, 'You Gotta Love Somebody' and the live bonus track 'One And One Is One'. John Fiddler also delivers a beautiful heart-felt 'Canít Live A Lie'.
The band actually manages to achieve a sound close to the nascent Free, with George Ford supplying a sumptuous fractured bass line on both the title track, and its live reprise bonus track.
But to this listener, and I suspect long time fans, Medicine Head remains simply Fiddler and Hope-vans tearing it up, and this belated release with some notable highlights, reminds us of what might have been.
***½
Review by Pete Feenstra
Don't Stop The Dance
© 2005 Angel Air Records. All rights reserved.
Related>>Album review