MEDICINE HEAD 'Only The Roses' Angel Air RAJPCD902 (2004)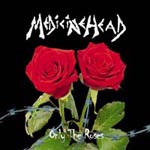 This single highlights the bandís ability to write a decent song. Only two tracks but ĎOnly The Rosesí is a catchy number from John Fiddler and his band. Upbeat pop/rock of power 80s style with nod back at the folk of the bandís history.
The second track is an acoustic version of ĎRising Suní. Guitar, vocals and harmonica, itís still a good listen.
But the band, music and era are no longer singles orientated, and havenít been for many years, so unless thereís a specific release this is promoting, this single does seem somewhat pointless. Still, thereís many an album by this band worth checking out.
***
Review by Joe Geesin
Related>> Album review


£3.99
Only The Roses

© 2004 Angel Air Records. All rights reserved.