MEDICINE HEAD 'Fiddler's Anthology - Greatest Hits Live' Angel Air SJPCD147 (2004)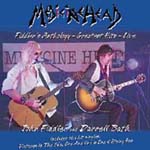 John Fiddler has a long pedigree. Between Medicine Head, British Lions, Box Of Frogs (featuring members of the Yardbirds) and solo (the Big Buffalo CD is worth checking), there's many a good tune Fiddler's penned.
A live set was recorded in London last year, in front of a select audience, and filmed for DVD (also on Angel Air). This CD, with tracks taken from that show, highlights some great music taken from across Fiddler's career. Recorded with ex Ian Hunter Band guitarist Darrell Bath, the duo produce a great sound. Mixing both electric and acoustic guitars, Fiddler also adds vocals and harmonica.
Many of John's bands released singles that get replayed here, including the Medicine Head cuts `Pictures In The Sky' and `One And One Is One' (the latter a top 3 hit).
The music's great, but largely acoustic throughout. It is still very enjoyable and atmospheric, and enjoyed by the audience. Nothing to bang your head to, but worth a spin.
Website
***
Review by Joe Geesin


£12.99
One And One Is One

© 2004 Angel Air Records. All rights reserved.