MAN Keep On Crinting: The Liberty/UA Years Anthology EMI 360 660 2 (2006)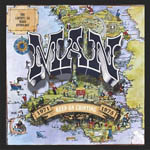 Although 'Keep On Crinting' is the second EMI/UA Man compilation album, following on from 1991's 'Perfect Timing', this two CD set is an essential purchase for all Man fans and lovers of West coast inspired guitar led psychedelic rock. The superb liner notes from Mark Powell coupled with some excellent promo photo's plus 3 previously unreleased tracks make this two CD set highly recommended
If you substitute the word 'Jamming' for 'Crinting' you will grasp the essence of Man's oft changing line-ups. Man was always an essential live band and in the ever present Micky Jones - now sadly sidelined by a brain tumour - the band had one of the great guitarists of the era.
Part Zappa, part Garcia, and with nuances of Steve Miller, Micky peripheral existence on the outer fringes of guitar greats, was mainly due to the band eschewing commercial success.
They did get close with the hippy anthem 'Bananas' - the original version is included here - and the chart album "Rhinos, Winos & Lunatics'.
The whole of side two of 'Rhinos' and Malcolm Morley's west coast nugget 'California Silks & Satins' illustrate why Man's spiritual home was the West Coast.
The shelved single 'I'm Dreaming' (itself a curiosity given the band was primarily an album led outfit), is also included and is an interesting departure from the same motif that later became 1975's 'Breaking up Once Again'.
While early raw Jones/Leonard twin guitar jam 'Spunk Rock' from the limited edition 'Greasy Truckers' album shows a band in the ascendancy, the later live versions of 'C'Mon' from 'Back Into the Future' finds Micky's angelic voice matching his exquisite guitar parts, alongside Phil Ryan's flowery keyboard embellishments.
Deke Leonard the other long term integral member whose rock & roll sensibilities counterbalanced the space rock is well represented by the fiery 'Daughter of the Fireplace' and the closing heavy riffs of '7171 551'. With all 21 tracks representing different facets Man's exponential career, 'Keep On Crinting' is a fine summary of one of Wales most influential and enduring rock bands
****
Review by Pete Feenstra
Related>> DVD Review