Never fashionable, but a class act...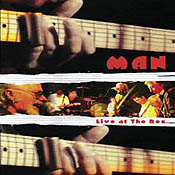 There can be few rock bands that can boast the musical pedigree and longevity of this legendary Welsh guitar band. With a career spanning 38 years – a significant amount of which has been spent in Europe – this DVD captures the band in their German stronghold at the very top of their game.
Indeed this 'Live at The Rex' show was part of a 35 date jaunt that was to mark guitarist Deke Leonard's last tour, the band's founder member Micky Jones having already departed due to illness. On a happier note Micky's son George Jones proves an able deputy, firing off some scintillating licks, and remaining stoically oblivious to calls from women fans to take his shirt off!
Both Deke and bass player/raconteur Martin Ace have been ensconced in the German live scene since their appearances at the Star club with the Beatles, but it was the era immediately after Beatle mania that spawned Man's oeuvre with some thundering guitar led west Coast influenced psychedelic rock.
The very funky opener 'Conflict of Interest' gains moment on the back of a typical memorable riff, while Deke's 'Love Isn't Love' from the band's 'Endangered Species' album, and Martin Ace's humorous 'Stuck Behind The Pope Mobile', complete with some melodic phrasing shows the band still have much to offer. But it is with the 30 year old anthems such as 'C'Mon' and 'Ride & The View' that Man show their real quality.
To say nothing is rushed is an understatement but there are so many colourful tonal textures, sparkling riffs, and virtuoso moments, plus Deke playing at the very height of his powers, that all fans of 70's guitar led rock should show more than a passing interest in this DVD.
Man will never ever be fashionable, let alone cultivate media concern, but on strict musical terms they remain a class act.
****
Review by Pete Feenstra