JOHNNY WARMAN 'Hour Glass' Angel Air SJPCD183 (2005)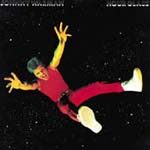 This album was released somewhere between the demise of Johnnyís 70ís Glam rock outfit Bearded Lady and his early 80ís Australian hit single 'Screaming Jets' from the 'Walking Into Mirrors' album (also to be found on Angel Air).
Nowadays Johnny fronts the hugely popular retro outfit The Mods, but at the end of the 70ís he was busy recording for Ringo Starrís label, and as his liner notes suggest having a lot of fun at Tittenhurst, Lennonís former abode.
The original 10 track album is supplemented by 8 bonus tracks, four of which find the core band of Warman, drummer Jeff Rich (later of Status Quo fame), and bass player Paul Martinez (Led Zeppelin/Chicken Shack) jamming on four tracks in the Apple studio.
As with his later solo efforts, Johnny seems wrapped up in a Sci Fi/Bowie fixation with an annoying Anthony Newly style, Cockney vocal delivery. The session seems to be driven by the fire of the punk era, Johnny refers in his notes to his earlier 1974 efforts with Bearded Lady as being both fast and angry.
'Hour Glass' while retaining the short, sharp, almost Jam influenced post punk feel, is somewhat more eclectic than your average New Wave effort; yet is best appreciated in that context of the time.
'Twilight Zone' the Punky Pop opener is full of thundering Martinez bass lines, and on 'Silver Tower' which segues into 'It Ainít Funny', Johnny adds his Cockney style, Bowie meets Steve Marriott vocal phrasing.
There are lots of little enjoyable musical ideas, and an avalanche of influences but nothing of real substance until the more straight ahead 'Street Angels', on which Johnny adds a pithy vocal as Chris Mercer delivers a telling sax solo. The album builds up to the closing Warman opus 'War of The Worlds' a grand piece that shifts through Beatle style bvís and electrical storms to its climactic conclusion.
Of the bonus tracks, 'Mind Games' sounds very 70ís, and the live take of 'Silver Towers' starts with an echo of 'Get Back'. The highlight is 'Head On Collision' on which the band stretch out in funky rock mode, with Johnny adding a powerful solo.
Overall this is an interesting but flawed effort that essentially sowed the seeds for the more focussed later career 'Walking Into Mirrors'
***
Review by Pete Feenstra
So Long
© 2005 Angel Air Records. All rights reserved.
Related>> Album review
Related>> Album review(Bearded Lady)