JOHNNY WARMAN 'From The Jungle To New Horizons' Angel Air SJPCD170 (2004)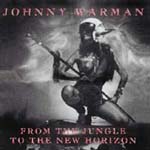 A couple of hits back in the early 80s; and this is Warman's second album from 1982. A time when pop with both rock and new wave influences was popular in Britain and many other territories. Guitarist and vocalist Warman produced many interesting tunes here, but few with any real meat. It is however still enjoyable listening.
The title track is too slow a starter to open the album, but it finishes well. 'Spirit In The Sky' is an interesting take; very very different to any 'hit' version.
There's plenty of electronic sounds and drum programming. More pop than rock, if you're prepared for that it's well worth a spin. Especially if you're a fan of Kiki Dee or Tony Levin.
The cover features a scantily clad armed female warrior, one breast exposed. It is sadly the most enticing part of the album. But it's the first time on CD and with 8 bonus tracks and sleevenotes from Warman it's still an excellent package.
Website
***
Review by Joe Geesin


£12.99

© 2004 Angel Air Records. All rights reserved.
Related>> Album review(Hour Glass)
Related>> Album review(Bearded Lady)
***** Out of this world | **** Pretty damn fine |
*** OK, approach with caution unless you are a fan |
** Instant bargain bin fodder | * Ugly. Just ugly
Guest contributor

JOE GEESIN

Full bio