Just witnessed your best live gig?..send us a review!
IMOGEN HEAP
Bridgewater Hall, Manchester 1 October 2006
There were several challenges facing Imogen Heap before tonight's gig. How to translate a largely studio conceived electronic album to a live environment, how to fill a venue the size of Bridgewater Hall, and how to stretch a limited repertoire to an hour and three quarters set.
Bridgewater Hall was a surprise choice of venue for a relative unknown. Normally reserved for major acts (David Gilmour, for example) it's a beautiful gig. Had Imogen bitten off more than she could chew? Well, surprisingly, while not a sell-out, there was a large audience, although the age and sex (sub 20 females) of a large portion of the audience - no doubt thanks to Imogen's contribution to The OC soundtrack - was telling.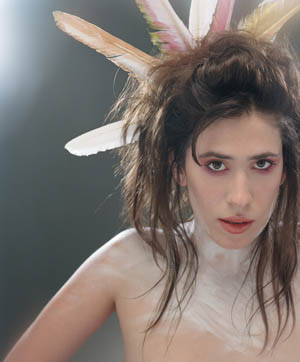 Photo www.imogenheap.com
Quite how Imogen managed to fill the set remains a mystery. Apart from a complete rendition of Speaking For Yourself, there were only three additional numbers - Speeding Cars from The OC, Frou Frou's Let Go, and Candlelight from her first album. OK, there were a couple of false starts and plenty of quirky in-between track banter (mostly with herself), but somehow the evening seemed to disappear effortlessly.
And as to how to translate her material, there were three basic approaches - solo piano numbers (Speeding Cars, Candlelight, Let Go and the lovely The Moment I Said It), solo electronic gizmo numbers (I Am In Love With You, Just For Now, and Hide And Seek, ) and the bulk of the set backed by support act Nemo.
For me, the simpler moments were the most effective - the single Hide And Seek being stunning in it's simplicity and beauty. But as competent as Nemo were (and they demonstrated just how blistering they could be on Daylight Robbery) the intricacies of the album proved impossible to recreate. Now that might have been intentional, but the three-piece never seemed to 'connect' with Imogen's sequencers, computers and gizmos.
And while it was a thoroughly enjoyable gig, the big question mark must be over 'where next for Imogen Heap?' She clearly needs to grow her audience beyond a fickle OC fanbase, so her next album is likely to be make or break. So what's it to be? Organic or electronic? We await with bated breath.
Review by Pete Whalley