IMOGEN HEAP 'Speak For Yourself'
Megaphonic Records (2005)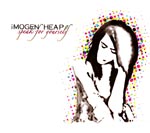 Depeche Mode, Japan, Madonna circa Ray Of Light. If this were the new Kate Bush album it would be heralded as the greatest comeback since Liverpool won the Champions League final. Speak For Yourself is not exactly like any of the aforementioned, but it is something of an electronic masterpiece.
You might be thinking Ďfine, but who the hell is Imogen Heap?í Good question. A classically trained pianist, Imogen is a singer-songwriter grounded in pop/rock electronica. Her first album I Megaphone was released in 1988, after which she became part of Frou Frou Ė an alternative pop-rock duo. On Speak For Yourself, her second solo album, she does it all Ė write, sing, play, programme and produce.
Headlock starts with bells, strings and electronic bubbling. Imogenís cool vocals come in, male voices are used as percussive instrument. The chorus is infectious, the sound draws you in and envelops you. Imogenís vocals layer and layer. More percussive male voices. Itís fresh, itís different and itís exciting.
Goodnight And Go is bitter/sweet pop featuring a guest appearance by Jeff Beck on guitar. Have You Got It In You? is broody and beautiful Ė breathy vocals over layered backing vocals bursting into a wonderful rhythmic beat. Itís absorbing and captivating. Loose Ends, another up-tempo pop number that demands attention.
Hide And Seek is constructed entirely of Imogenís voice and is ethereal and hymn like. Itís one of the highlights of the album. Clear The Area is another corker Ė swirling electronica, haunting vocals over piano, an oriental beat and a monumental chorus. Daylight Robbery is furious and violent. The Walk, another supremely infectious and rhythmic number.
Just For Now is more multi layered pop, I Am In Love With You throws in a funky beat, Closing In builds and builds to a frantic climax. Then, before you know it, The Moment I Said It closes the album on a high Ė a moving song of a relationship shattering - beautiful vocals, delicate piano and electronica Ė you can almost feel the pain and uncertainty of staring into the void.
Speak For Yourself is an album youíll want to hear time after time, each listening revealing previously hidden facets. Itís an intoxicating mix Ė sophisticated, intelligent and experimental pop/electronica. Itís vibrant, varied and quite possibly one of the best albums youíve never heard and deserving of wider recognition.
****
Review by Pete Whalley