DARYL HALL & JOHN OATES 'I'll Be Around'
(CD single) U-Watch (2005)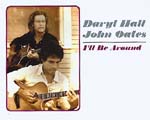 Admit it - we've all got some Daryl Hall & John Oates buried somewhere in our collections. Or we should have - they were pretty damn fine around the time of Abandoned Luncheonette. And even in their 'pop star' years they could knock out a damn fine tune. Cream, as they say, rises.
Which is a pity, because they've perhaps passed their 'best before' date. The vocals are still instantly recognisable, but this is nothing more or less than late night Radio 2 fodder.
Nothing wrong with that but it won't scratch the charts and unless you like your rock/ soul particularly bland there's nothing to suggest you would want to spend your hard earned pennies on this or the album. Shame.
***
Review by Pete Whalley