DARYL HALL & JOHN OATES 'Our Kind Of Soul'
U-Watch (2005)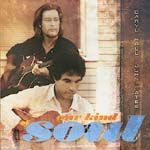 You might assume that Hall and Oates would be totting up their royalties from the Uniting Nations single and peeling grapes in sunny LA. But no.
'Our Kind Of Soul' sees the duo going back to their roots, an album of soul covers (with the exception of three originals) which points to their influences.
With this sort of album, you are either going to get a selection of songs that actually improve upon the originals or you're going to get something that sticks pretty much to the plot. 'Our Kind Of Soul' achieves neither and may alarm the purist.
Hall and Oates have added their own little twists and turns, so in that sense this album must be considered first and foremost a personal interpretation of some of their favourite soul tunes. For some, Hall's approach may seem a tad arrogant: Of the lesser-known Smokey Robinson song 'Fading Away', he says: "If I couldn't remember the words, I sang what made sense to me. I completely changed the arrangement, and even added a bridge." Hmmm...right.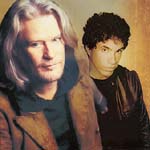 The instrumentation is contemporary and the essentially acoustic approach recalls latter-day Isley Brothers. And of course, Daryl Hall stamps his time-honoured tonsils over the whole thing and with great effect.
I'm not so sure how this will appeal to those die-hards who recall the original tracks, but Hall and Oates fans will welcome back the duo with open arms on what is, for them, a return to form. And it's damn fine music to chill out to, turning the lights down low with the one you love. The album's sequencing deftly saves the strongest tunes until last and the last three, on what is a generous 17-song set, are very fine indeed.
But, before we get all soppy and smoochy in a soulful sort of way, let us think for a moment of some of the superb pop-soul-to-rock tracks that Hall and Oates have produced over the years: 'Sara Smile','Kiss On My List'.'I Can't Go For That' et al.
We have to hope that - the 'cover' album out of their system - the blue-eyed soulsters follow this up quickly with a killer set of original material. To reinforce this, it may come as no surprise that one of the standouts on this album is actually a remake of their classic 'I Can Dream About You' and, for further confirmation, the self-penned songs ain't bad either.
****
Review by David Randall
I'm Still In Love With You
© 2005 U-Watch Records. All rights reserved.