Just witnessed your best live gig?..send us a review!
GUILFEST (The Damned, The Stranglers,Blondie)
16 July 2004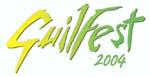 Nobody had less than a great time at this summer's Guilfest. Every year, it proves its growing attraction by drawing in yet more punters and superb headline acts. On the Friday we were treated to an 80s punk revival. First up were The Damned. Out of the shadows appeared cohorts of ageing 'Damned' faithfuls, donning the black T-shirt uniforms of their heroes over midriffs that admittedly have seen leaner days. Captain Sensible in his fur coat and S&M trousers proved he still has something to offer, combining well with a flamboyant Dave Vanian, dressed in a surgeon's gown and black leather gloves. Their brash humour and enduring enthusiasm ensured the crowd remained entertained. But this was just a taste of what was in store.
Local boys The Stranglers, fronted by Hugh Cornwell's replacement, Paul Roberts, returned to their home town for the third year in a row. A quite enthralling Roberts was boosted by a chiseled six-pack that sent elements of the crowd's female contingent into a frenzy. His strutting and posturing more than made up for a clean sound, lacking the power and abrasiveness of the band in its prime. But Dave Greenfield's hypnotic Doors-tinged keyboards added a dreamy dimension to classic hits like 'No More Heroes' and 'Golden Brown', giving us a sound more suited to an audience comprising as many young children as dirt-bag teenagers and ageing rockers.
Soon, the thronging crowd became a heaving mass in anticipation of the finale to come. At 9:45 it was time for Blondie. An unsure entrance by the band soon gave way to a Debbie Harry looking and sounding like a singer half her age. Her elegance and poise were matched by the cohesive unit behind her, while hoards of young fans singing along to classics like 'Call Me', 'Atomic' and 'Heart of Glass' showed the band's enduring appeal. Someone next to me had seen them at Glastonbury but said this performance was even better.
As much as I like Blondie, though, it was The Stranglers that were the highlight for me. Even without the driving guitars and percussion that gave them their punky appeal in the 80s, it's clear they love coming home and playing to an appreciative crowd that keeps coming back for more.
Review: James