Just witnessed your best live gig?..send us a review!
GUILFEST (Katie Melua,Rolf Harris,Simple Minds)
17 July 2004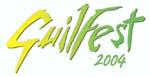 Guilfest has to be, along with Cropredy, the most family friendly festival and one for music fans who want to enjoy the music and atmosphere rather then be showered in bottles of piss and accosted by drunken yobs. The line-up on Saturday mixed many old favourates like Rolf Harris with one of the 'names of the moment' Katie Melua. This year I went along with my family and so it marked the festival debut of my five-year-old daughter - she had a ball! More interested in the kids tent than the music but then that's the point of festivals something for all ages and tastes.
Mohair were the first band I caught on the main stage and they showed lots of promise. Good, solid catchy melodic rock tunes - ideal for radio - and hotly tipped as a band to watch. Didn't catch all their set as the food stalls beckoned! The Alarm was the band of the day no contest. From the off they played a hit laden set including a storming 'Where Were You Hiding?' (which had food stall holder nearby us pogoing like a good 'un!), the anthemic '68 Guns', 'Rain In The Summertime' and the recent hit single '45 RPM'. Of the new songs 'Drunk and Disorderly' could easily have come off their classic albums of the late 80's/early 90's complete with a chiming guitar riff. Second time I've seen them this year and they really seem to be back to their glory days again.
Rolf Harris may seem a strange choice but no one works a crowd better then he does. Very relaxed, dressed in a loud shirt and waistcoat he performed the expected songs like 'Two Little Boys', 'Tie Me Kangaroo Down' and the reggae meets country version of Led Zep's 'Stairway To Heaven'. Caught a snippet of Tim Booth (ex-James singer) who seemed in fine form vocally, but it was the kids' tent calling for us now. The entertainment for children was well planned and we watched the clown duo Big Foot & Furry Foot. It's all very staged but like pantomime good fun to watch and join in with.
Back to the main stage for Katie Melua, who is under the guidance of Mike Batt (he of the Wombles fame) and she has had massive sales success with her debut album 'Call Of The Search'. Pleasant listening and she proved a hit with the crowd but not really my listening preference.
Closing the Saturday show were Simple Minds who were the stadium giants in the 80's along with U2. Vocalist Jim Kerr doesn't seemed to have aged and has kept his vocal power down the years. A hit filled set including 'Don't You Forget About Me', Promised You A Miracle' and 'Belfast Child'. They benefited most form the light show as of course it was nearly dark (never seems the same a light show in daylight!). Well played and professional throughout and a great way to close another fine day at the Guilfest.
If you've yet to get to Guilfest get along next year as there is bound to be something musically you will like plus you get a very lively stalls and food area. Roll on next year!
Review: Jason Ritchie