GREENSLADE 'The Full Edition Live 2001' Angel Air SJPCD164 (2004)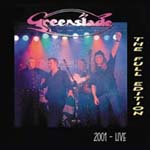 Former Colosseum member Dave Greenslade gave Greenslade their name and had success with a string of albums in the 70's, before calling it a day in 1976. Greenslade reformed in 2000, released a new studio album 'Large Afternoon' in 2000 and this 2001 gig was recorded at the Rotherham Rocks. Joining Dave Greenslade (keyboards) are fellow Greenslade 70's member bassist Tony Reeves, drummer John Trotter and on vocals/keyboards John Young (Asia/Scorpions/Bonnie Tyler/John Young Band).
This is the first time I've heard any music by the band and was intrigued especially as the line-up has no guitarist! Highlights include 'Cakewalk', very keyboard driven and not unlike Camel; 'Feathered Friends', an up-tempo blues meets jazz workout and the exceptional vocal talents of John Young. (As an aside how this guy is not better known is beyond me as he has a melodic and radio friendly vocal style). Sweeping keys and intricate percussion feature on 'Sundance', a nice relaxing end-of-the-day tune. Big 70's prog belter in 'Spirit of the Dance' (ELP fans will be happy with this one).
Excellent sound production and at times bar the end of song cheers, you'd think this was a studio album. Interesting listen - very laid back sound, with plenty of musical variety mixing jazz, blues, AOR and progressive music well.
Label website
****
Review by Jason Ritchie
Related>> Album review(Going South)


£12.99
Cakewalk
© 2004 Angel Air Records. All rights reserved.