GORDON GILTRAP 'The River Sessions '
River Records RIVERCD036 (2004)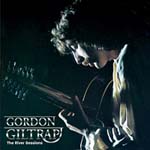 River Records are slowly but surely releasing some archive gems from the store of tapes recorded by Radio Clyde in the late seventies and eighties.
This sort of live material is often a little touchy for artists, who don't always like what they hear in the cold light of day. BBC radio sessions have often suffered the same fate.
When band members disagree on the quality factor, things start to get complicated. For fans, well, OK, they understand artistic credibility but they can forgive the odd bum note here and there for the sake of rarity.
Thankfully this recording of Gordon Giltrap suffers no such complication, in fact the man even jokes at the start about the likely outcome of a live radio recording.
The sleeve notes suggest that this might be the ultimate summary of where he was at in the seventies. And there is incredulity that this recording exists at all, not least from Giltrap himself who claims 'this is really on the money.'
In the late seventies, Giltrap had gone 'electric' with full band outings for the classic 'Visionary', 'Perilous Journey' and 'Fear Of The Dark' albums.
This performance is pared down with just Richard Harvey (keyboards,woodwinds) and Rod Edwards (keyboards). The dramatic rolling themes on display include 'The Tiger', 'Revelation' and Lucifer's Cage'. But, hey, no sign of 'Heartsong' in this set.
This CD is a unique bookend to Giltrap's electric career at the turn of the seventies and an essential and unexpected CD in a long and prolific career.
****
Review by David Randall

Passion Fruit
© 2005 River Records. All rights reserved.
Related>> Album review