GORDON GILTRAP 'A Testament Of Time'
Voiceprint LCVP157CD (2005)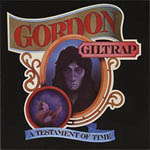 This master guitar picker has an illustrious catalogue covering music of all shapes, sizes and genres. Back in 1971, this is where it all started.
Giltrap's fourth album is essentially a showcase for his flamboyant guitar picking but it also features vocals. It shows his folky roots before he later branched off into other idioms, notably rock, later that decade. Thankfully, he ditched the vocals along the way.
Produced by Derek Lawrence (Wishbone Ash, Deep Purple), engineered by the great Martin Birch (so it's beautifully recorded) and with orchestration by Del Newman.
The lyrics might seem a little trite and in the storyteller stakes Giltrap was perhaps no Al Stewart, and whilst Newman's arrangements here echo a more upbeat Nick Drake he lacked that performer's charisma.
But, hey. tunes like 'Harlequin', 'King's Ransom' and perennial favourite 'Catwalk Blues' demonstrate why Giltrap went on to become one of our most industrious and talented guitar pickers.
***½
Review by David Randall

King's Ransom
© 2005 Voiceprint. All rights reserved.