GENO WASHINGTON 'The Return Of The G'
(Kookooland Records KKGCD007)(2004)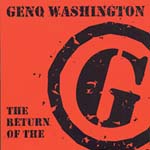 Geno Washington is something of a legend, a sixties soul-to-R&B man who had several successes in that decade and ultimately got religion. You may remember he was immortalized by Dexy's Midnight Runners and their eighties hit 'Geno'.
More recently his solo work has been overshadowed by sessions for other artists, now he has a chance to expand with 'The Return Of The G'. And, what a return. This album will not win top marks for originality, but what it does is distill a range of rock to funk influences into one, humping, irresistible whole. The opener sets the tone and seemingly bridges the gap between Washington's sixties roots and the present, with an "In A Broken Dream" descending bassline, rap, and a rousing guitar chorus.
Washington's vocal is at times reduced to rap and blues drawl (as on 'Blues Master') but, my God, it works. On a groove like 'Genie In A Bottle' he hollers 'The bottle's too strong, and the woman won't let me go.' Wow. Against a hard funk backbeat Geno does the business. He can even be forgiven for a Santana fixation, with 'Walkin With The Gods' almost an outtake from the 'Supernatural' sessions.
It's not all bump and grind: 'Feel Alright' has Motown-style harmonies whilst Dr Superlove has a vibe and female vocal that would give Mis-teeq a run for their money. The lyric content is a tad more risque than your average girlie band, however, and may prevent Geno doing Top Of The Pops this time around. Indeed, the title of the last track, 'Spot On My Rocket', further highlights the, ahem, thrust of his message.
With an ace support band, 'Return Of The G' is, simply put, a return to form.
Website
Memicelfandi
© 2004 Geno Washington/. All rights reserved.