FUN LOVIN' CRIMINALS 'Welcome To Poppy's'
(Sanctuary 06076-84616-2)(2003)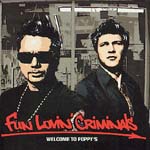 Seven years ago Fun Lovin' Criminals enjoyed several hit singles off their debut release 'Come Find Yourself'. One of the tracks,'Scooby Snacks', went to No.1. They are unlikely to repeat that success with their latest album, but that's not to say it's a bad record.
It opens with a fearlessly funky groove, 'Too Hot' whilst 'Living On The Streets' is pretty cool, too, a rumbling vibe punctuated by brass and guitar. 'Friday Night' is what the synthed up Isley Brothers might have ended up sounding like in the 21st century. It is the straight 'n' soulful tracks that work the best; this makes the punk 'Lost It All' and the rockier tracks like 'Baby' a bit out of place.
I think the problem with this album is timing. It should have come out in May, because it's got that summer heat soundtrack thing, one to take out with the hood down as it were. But, anyway, FLC have a new drummer, and his name is Frank The Rhythm Master. And, he's from Leicester.
Website
Too Hot
© 2003 Fun Lovin Criminals/DiFontaine Records/Sanctuary.
All rights reserved.
***
Review by David Randall