Just witnessed your best live gig?..send us a review!
FOREIGNER
Florida Theater, Jacksonville, Florida, 10 February 2006
Foreigner threw a party at the Florida Theater on February 10th! The theater was fairly full, with a couple of empty seats in the back .
The hard core Lou Gramm fans who stayed home didn't help boost ticket sales, but that did not stop the bands performance tonight.
The Mick Jones faithful fans came out, the ones who know all the words to early standards such as "Cold As Ice" and "Jukebox Hero."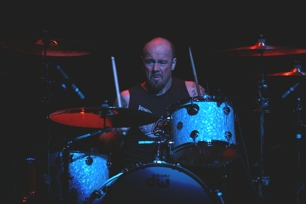 The current lineup includes none other than Jason Bonham, son of Zeppelin great John Bonham. Replacing the seemed irreplaceable front man Lou Gramm is Kelly Hansen of the 80's band Hurricane and as more recently the band Heaven & Earth.
Kelly's stage presence comes off as a cross between Steven Tyler and Mick Jagger. The new bass player is Jeff Pilson of Dokken/Dio fame. Jeff's energetic performance style was much more than expected from a bass player these days.
"Lou who," one fan could be heard saying to the people around him. That sentiment could be felt throughout the theater, which sounded more like an arena.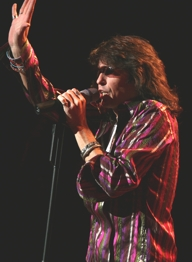 The crowd wasn't just full of fans, it was full of devotees. That added a kind of energy to the show. I was not looking as forward to this show as I would have normally have been growing up as a teenager of the late seventies / early eighties.
I had read up on Louís revolving door with Mick and interviews that Gramm did, citing creative differences as the reason for leaving Foreigner.
Lou states that the band's direction was too mellow and commercial. He did not want to sing the power ballads anymore and preferred to rock.
Let me say this, this band with Kelly at the helm rocked the Florida Theater pretty damn hard and the Jacksonville crowd responded.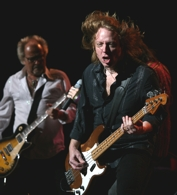 When Hansen enticed the crowd into singing along with "I Wanna Know What Love Is," everyone was completely in synch, belting out the lyrics and swaying along. It was the kind of moment you would not expect from a band that has been around this long.
One of the highlights of the night was a great version of "Juke Box Hero", the band goes into Led Zep's "Whole Lotta Love"! I loved this transition as they took us back into "Juke Box Hero"!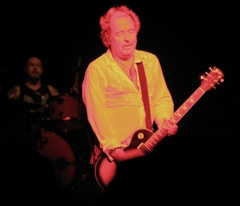 Go see these guys live with Jason, close your eyes during this song and you'll swear John was up there with band. This is an apple that didn't fall too far from the tree. The night ended with the classic hard rock hit "Hot Blooded." Once again Mick Jones showed what a great guitar player he really is under a lone red spotlight.
If you have any doubt in your mind about Foreigner 2006, then go see the band live, I guarantee you'll fall in love with this band all over again.
Story and Photos by Steve Janowicz
© 2006 Janophotos
Related>> Gig (2005)
Related>> Album review