FOREIGNER 'The Definitive' Atlantic/Rhino/WSM (2005)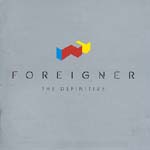 You might recall the album 'Records' which in the days of vinyl had a cut-out sleeve like Zep's 'Physical Graffiti'.
Ah, happy memories, but is the world ready for yet another best of outing from Lou Gramm and the boys?
Foreigner defined the AOR stadium rock sound of the late seventies, early eighties. In Gramm they had one of rock's best-ever melodic rock vocalists, low-down and dirty when required but also with a sensitive side.
The eponymous debut culled two hit singles 'Feels Like The First Time' and 'Cold As Ice' and became a multi-million seller. The next two albums, 'Double Vision' and 'Head Games' consolidated their success.
It has to be said, Foreigner's albums were always a bit patchy. Consistent, safe, almost the ABBA of hard rock, the albums usually yielded a number of killer tracks that would capture the airwaves across the world. The slow ballads, 'Waiting For A Girl Like You' (from 1981's '4') and 'I Want To Know What Love Is' (from 'Agent Provocateur' in 1984) are two prime examples.
When the band did veer from the piledriving platinum formula, things got a bit iffy. With its phased drums and retro-prog flourishes 'Star Rider' sounded a tad dated even in 1977.
A best of is, perhaps, all you'll ever need. This CD also includes tracks from 'Inside Information' (1987) and 'Unusual Heat' (1991) by which time the band had all but imploded and without the great Gramm, whilst the band's last gasp in 1994 - the disappointing 'Mr Moonlight' - is also featured.
For completists, the addition of a live version of 'Urgent' recorded at the BBC in October 1994 may or may not justify purchase.
1992's 'The Very Best...and Beyond' has a similar if not quite as comprehensive track listing, and one can't help thinking that although welcome this is an unnecessary act of recycling. In fact it turns out 'The Definitive' first surfaced in 2002.
In truth, this reissue is probably only essential if you want to update your dog-eared 'Records' but without the novelty of that album's peek-a-boo sleeve.
***½
Review by David Randall
Urgent © 2005 Atlantic /Rhino/ WSM. All rights reserved.
Related>> Feature