VARIOUS 'Where We Live (A Benefit CD for Earth Justice ' (Higher Octave Music, 2003)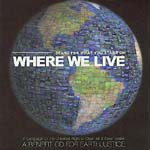 You can almost hear the brief from the marketing men. "OK, how are we gonna promote an awareness of environmental issues, that will appeal to our fat lawyer friends at dinner parties, our target demographic, and give our cause some credibility?' It's difficult the job of the compiler, but someone's got to do it. Christmas, well that's not too bad. Soundtracks...just make sure you've got the licence for Beyonce. Clean air, clean water? What?
It's a good cause, no question, and Earth Justice is a non-profit public interest law firm dedicated to preserving 'the magnificent places, natural resources, and wildlife of this earth'. But the compilers have gone with an organic blues rock to folky theme on the CD and immediately this rather narrow genre might alienate some. There is no doubting, though, a stellar cast of contributors hand-picked for the cause, from Norah Jones, through Bob Dylan (sounding strangely like Rod Stewart or maybe it's the other way round), and Maria Muldaur with Bonnie Raitt.
The tracks are allegedly some of the artists' more obscure offerings which is fine for collectors, whilst Captain Beefheart's contribution (his first recording for two decades) is limited to a mere 35 weird and wonderful seconds. Which brings me to the question. How do you preserve wildlife? Well, simple enough, buy this album...and then throw a party.
Competition
Campaign Website
***
Review by David Randall
What's Going On
© 2003 Los Lobos/Earth Justice/Higher Octave Music. All rights reserved.