Welcome to the getreadytoROCK! competition page
We promote our own regular competitions, but we also signpost other rock-related comps that we know about.
This is your chance to BAG UP!! Just answer the question below
If you have a competition, just email us with all the details, and we will post it here.


---
WIN AN EARTH JUSTICE CD!
Great music AND a great cause! Courtesy of Higher Octave/EMI Music we have three CDs to give away. Many of the world's most outstanding musicians have contributed to a new benefit CD called "Where We Live - Stand For What You Stand On". The album includes hard-to-find tracks from artists including Captain Beefheart, Bob Dylan, Bonnie Raitt, Lou Reed, Norah Jones, and many more.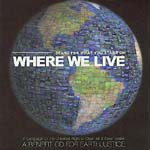 Read the Review here.
The first correct entries drawn after 31 January 2004 will win.
Just answer the following question...
What is Captain Beefheart's real name?
a) Don Van Vliet
b) Vincent Furnier
c) Frank Farrano
Now complete the form below: