DONOVAN 'Beat Café ' Appleseed APR CD 1081 (2004)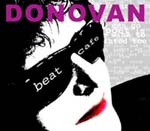 My wife liked Donovan (or did in the mid 1960's in his Fairytale / Catch The Wind period). My Mum liked Donovan (she had his 1973 album Cosmic Wheels). So Donovan Leitch, clearly something of a ladies man (although he pops up on my copy of Alice Cooper's Billion Dollar Babies). The sleeve doesn't give any hint as to whether he's still still pin up material, so the burning question is 'how is this 60's troubadour faring 30 odd years on? And does it cut mustard?
Beat Café was recorded between 2002 - 2003 and is a back to roots album featuring Donovan on vocals and guitars, Danny Thompson on double bass, Jim Keltner on drums and John Chelew on keyboards and production (fresh from Grammy award winning production duties with the Blind Boys of Alabama).
As with many artists these days, old 'kit' was used to get that classic sound and that's one of the first things that hits you when you listen to the album. The sound quality is astounding.
The opening track Love Floats starts with a vocal rhythm chant overlaid with a 60's groove lyric. An organ rises in the mix and then the jazz double bass kicks in like a mule. It has a wonderful 60's yet contemporary feel.
Poorman's Sunshine continues in a similar vein but with a Doors feel. Beat Café is a bluesy Parisian number with a Pink Panther groove - the bass again taking centre stage.
On the sleeve notes, Donovan says the album explores 'modern life' as seen from Bohemia. Whatever. What this means in practice is that the songs here are an eclectic bunch - jazz, folk, blues, pop, r&b and roots. Every track has a wonderfully loose feel, not over rehearsed and the players all sound 'well into it'.
This is a beautifully played, produced and crafted album with some real gems on it. A welcome return to form.
****
Review by Pete Whalley
Love Floats
© 2004 Donovan/Appleseed Recordings. All rights reserved.
Related>> Album review (reissues)