DAVID GILMOUR Live And In Session (2006)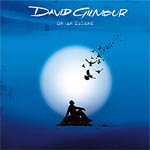 There are those among us who, having failed to land a copy of this limited edition DVD, will want to know whether it is worth shelling out on another copy of the limited edition of On An Island, which is currently the only way to get hold of it.
But there"s nothing special about this version of On An Island On. That"s not a slur on one of the albums of 2006, it"s an observation that this 'limited edition" is no different to the original - other than the inclusion of the DVD. So no extra tracks, no studio out-takes - nadda.
So what of the DVD? Well the core is made up of the AOL sessions from New York in April 2006. Six tracks - On An Island, This Heaven, Smile, Take A Breath, High Hopes and Comfortably Numb. And if you want a preview, well just go on line, go to aol.com and the sessions archive.
It is what it says on the can - psuedo studio sessions, immaculate performances (would you expect anything less?) and Gilmour in inspired form. But as a visual-fest, nothing out of the ordinary. Why they decided on these over, say the excellent BBC sessions in March is something of a mystery.
But the cherry on the Genoa cake is the inclusion of the Albert Hall version of Take A Deep Breath in May 2006. This is a taster for the full DVD release of the gig in Spring 2007. And, as a visual and aural spectacle, it puts everything else on offer here into the shade. So roll on Spring.
So in summary, if you"re a Floyd/Gilmour addict, definitely worthy of tracking down (but maybe not at the price of acquiring a second copy of On An Island). And for the casual fan, save your pennies for the On An Island live DVD.
****
Review by Pete Whalley
Original album review
---
| | |
| --- | --- |
| | Print this page in printer-friendly format |
| | Tell a friend about this page |