DAVID GILMOUR On An Island EMI (2006)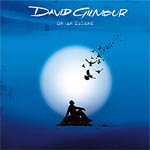 It's been some years since Gilmour made a new studio recording; 12 years ago with Pink Floyd, even longer since his last solo release. And was it worth the wait? Well, more yes than no.
It's distinctively Gilmour from the outset, his voice, the piercing guitar, and with Richard Wright guesting too, it will please most Floyd fans.
That said, it's a lot more atmospheric, with grandiose production, but overall it's not as strong or consistent as the last Pink Floyd outing.
Gilmour's guitar work does stand out, especially on the title track.
While the album does feature some decent vocal harmonies, other tracks like 'The Blue' are weaker, a little aimless. 'Take A Breath' is an interesting direction, different from what you'd expect.
And although Floyd comparisons are going to be obvious they are also unfair, as this album shows Gilmour is a strong song writer and guitar player regardless of who he plays with. While some tracks do surprise on first listen, the album does grow on you with repeated listens, warming gently and very pleasantly. It doesn't grab on first listen because you keep expecting the Floyd touches to explode into a fully fledged Floyd, which doesn't happen.
Give it a chance, it's worth it.
****
Review by Joe Geesin