CAROLYN DAWN JOHNSON 'Dress Rehearsal'
Sony BMG (2005)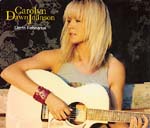 Carolyn Dawn Johnson has her roots set firmly in Nashville. Her last/first album Room With A View - was a pretty reasonable debut, almost a crossover but with perhaps the exception of the beautiful Georgia there wasn't a lot to distinguish it from a host of contemporary releases.
And it wasn't entirely clear what direction Carolyn was travelling in - one foot in the country camp and the other not sure whether it wanted to head in the direction of Shania or something a little less pop.
This, her second album, thankfully doesn't fall into the naff second album elephant trap. And it takes another step towards the mainstream.
The title track is in Tori Amos territory (albeit at the more commercial end of her repertoire), He's Mine has more lead guitar than pedal steel, and Complicated brings Shelby Lynne to mind.
Elsewhere there's nods toward Sheryl Crow, Neil Young and 'Squeezin' The Love Outta You' brought City Boy to mind (for some reason, I can't quite explain).
Having listened to the album several times, it's easy to see why Loretta Lynn won best album of the year at the Country Music Awards. Van Lear Rose was uncompromising and that's where Carolyn Dawn Johnson and her contemporaries are falling short.
There's some excellent material here, Carolyn has a fine voice and this could have been a great album. But it has been sanitised for the masses and topped with a nice sugar coating. An opportunity wasted. But let's be honest, is a major label really going to play it anything but safe?
***
Review by Pete Whalley

Dress Rehearsal
© 2005 Sony BMG. All rights reserved.