SANDRA McCRACKEN 'Best Laid Plans' Shell (2004)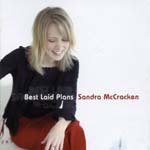 For the first couple of listens this album itches like an itch you canít scratch.
The opening track 'Plenty' is a haunting piano led track with cello and classical guitar. And then it came to me - its like early Tori Amos. And probably the best track on the album.
Although Sandra comes out of Nashville, this isnít C&W. It was recorded and mixed by Ray Kennedy - spouse of River City Peopleís Siobhan Maher-Kennedy. And there are parallels to Siobhanís hubby-produced debut released in 2002.
Itís that post Shania / Mutt Lange country sound - radio friendly, non-poppy but nevertheless undeniably commercial with a just a hint of c&w here and there.
Like Siobhanís, Sandraís album is perfectly pleasant and well produced, but it's another of those where the artist constantly reminds of others as opposed to making it their own - despite the bulk of the material being self penned.
Itís really hard to pinpoint who Sandra sounds like - Tori is just one of many. But at the end of the day this amounts to nothing more than wallpaper music. And covering Peter Sarstedtís Where Do You Go To My Lovely was just a mistake.
Sorry Sandra, donít give up the day job.

***
Review by Pete Whalley
CD single review
Artist website

Plenty
© 2004 Sandra McCracken. All rights reserved.