WIN SABBATH BOX SET!
You can win the limited edition Black Sabbath vinyl box set in our latest competition.
'The Ten Year War' brings together their eight Ozzy-fronted albums, plus many other rarities, all housed within exclusive artwork created by renowned street artist, graphic designer and activist Shepard Fairey.
Check out our extensive review and good luck if you participate!
The runner-up in our competition will win a pair of tickets to the one-night only screening of 'The End'.
Competition closes, 24.09.17
More information (review and competition link)
---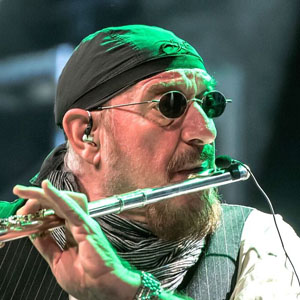 IAN ANDERSON TALKS TULL AND 50 YEARS
Pete Feenstra recently caught up with IAN ANDERSON for Get Ready to ROCK! Radio to chat about the band's early years, ahead of the UK tour announced for April 2018. This coincides with the band's early appearance at London's Marquee Club and a year - 1968 - which culminated in the release of the debut album 'This Was'.
GRAHAM BONNET was also the subject of a one hour special on the station, chatting about his long career from the late 1960s and subsequently with Rainbow and Michael Schenker.
Both these interviews are available to listen again.
---
Albums of the Month
BLACK COUNTRY COMMUNION BCCIV (Mascot)
"...a set of tunes that rock up, for my money, a significant cut above 'Afterglow' and stand shoulder to shoulder with anything on the band's first two albums....This is cast iron classic hard rock. Beautifully conceived and expertly delivered." (Dave Atkinson)

---

GUN Favourite Pleasures (Cloburn Music)
"This is the best Gun album in a long time and easily stands up with the likes of 'Taking On The World' and 'Swagger'. Give it a listen and it could quickly become one of your Favourite Pleasures as well." (Dave Wilson)

---

H.E.A.T. Into The Great Unknown (earMUSIC)
".sees them boldly branching out into some new directions while maintaining their strengths of youthful freshness and memorable hooks and choruses." (Andy Nathan)

---

DEVILFIRE Dark Manoeuvres (Escape The Fire Records)
"Straddled somewhere between Magnum's melodic rock sensitivities and the darker, dirtier band which Europe (thankfully) became...there's enough quality here to suggest that Devilfire has arrived with a belting debut and will be putting the Brummy boot in for years to come" (Mark Shaw)

---

KING KING Exile & Grace (Manhaton)
"..a hard rocking band with a bluesy heart and an armoury of riffs powerful enough to help project them on to the next level" (Pete Feenstra)

---